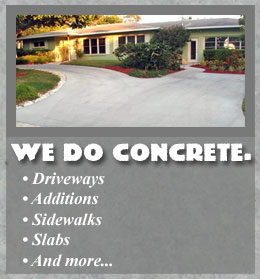 Concrete Services for Sarasota, Bradenton, Ellenton, Palmetto and Surrounding Areas
Are you looking for a reliable, quality concrete company to help you with your project? Well Matt Yoder Concrete is a reputable concrete company who can come in and provide you with a professional job done right and on time. No job is too big or too small. You'll be pleasantly surprised by our work ethic and friendly customer service. See what recent customers had to say below:
"Matt, I wanted to take a moment to thank you for all the work you do for our homes. As a property manager of close to 300 single family homes I dont have time to babysit our vendors and with you I can always call and your response time on an estimates are always prompt and more than fair. All of the driveways and cement work you have done for our company have been excellent and priced right. We will continue to send you our business and we appreciate you. Have a great day!"

- Susie Miller, Realtor/Property Manager, Sarasota
"We are very pleased with our new driveway and the professional service your company demonstrated with our project. The estimate was a fair price and the date set for the work was very quick and suitable to our busy schedule. The project was completed in a timely manor, very neat during and after the work was completed. We will recommend your company to our neighbors and friends."

- Bill & Mary, Sarasota
"We love love love the concrete driveway. In fact we think that in the spring we are going to contract you again for another project we have at our house. May put in a patio area on the other side of the house. Thank you so much for everything. You and your staff were so nice and great to be around. It is perfect!"

Gary & Ellen, Bradenton
"Matt Yoder Concrete came in to pour a footer and a finished floor for our recent addition. We were impressed with their timeliness and the quality of work they did. But even more than that, they cleaned up afterwards and treated our property as if it were their own. I've seen companies come in and destroy our yard or leave debris laying around but that wasn't the case with Matt Yoder Concrete. Thank you!"

- Daryl & Doris, Bradenton
Matt Yoder Concrete does a variety of flatwork concrete. We do concrete additions, driveways, sidewalks, footers, and new construction slabs. We remove existing broken concrete, asphalt or shell and replace with new concrete. Please contact us for a free estimate.
---